This Old Man Piano Notes
Click here for This Old Man Piano Notes PDF
Knick Knack Paddy Whack or This Old Man is one of those melodies that we all seem to know but can't quite remember all the words. It's super fun to play and includes a quick C-D-E-F-G run on the piano and xylophone that may take a little practice but will be worth it.  It's a lovely little melody and one that you can learn quickly on the piano or xylophone. Don't forget to sing along.
Who Wrote Knick Knack Paddy Whack?
While the origins of This Old Man are up for debate, according to Wikipedia, the origins of this song are obscure. The earliest extant record is a version noted in Anne Gilchrist's Journal of the English Folk Dance and Song Society (1937), learnt from her Welsh nurse in the 1870s under the title "Jack Jintle"
Click here for This Old Man Piano Notes PDF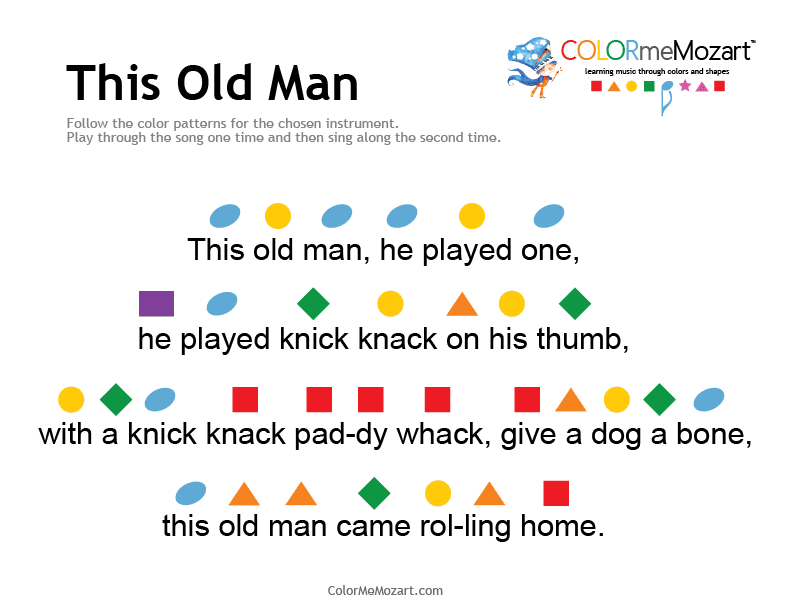 Want Your Child to Learn Piano and Music?
For more information into the Color Me Mozart™ music curriculum, click here to find out more. Your child can learn music, piano and xylophone with real music education that they can apply to any instrument in the future. Give the gift of music to your child or students.
Here at Color Me Mozart™, we believe every kid has the ability to learn to music. Most importantly, we feel that every child should have the opportunity to learn music, piano or any other instrument. Music is such a rich language that helps with cognitive, emotional and social development.
That is why we created a curriculum that was not only effective in teaching music and piano, but also affordable to add to any home or classroom.
Want to learn Baby Shark on the piano, click here!