Hot Cross Buns Easy Piano Notes
Click here for Hot Cross Buns Piano Notes PDF
Hot Cross Buns is a song we all come across in our childhood. You've probably played it on the recorder in the 3rd grade. What makes it a great starter melody for kids to learn on the piano is that it only has three notes: C, D and E. It's as easy as that. It's a simple song that you can learn quickly on the piano or xylophone. Don't forget to sing along.
Who Wrote Hot Cross Buns?
According to Wikipedia, Hot Cross Buns was an English language street cry, later perpetuated as a nursery rhyme and an aid in musical education. It refers to the spiced English confection known as a hot cross bun, which is associated with the end of Lent and is eaten on Good Friday in various countries.
Click here for Hot Cross Buns Piano Notes PDF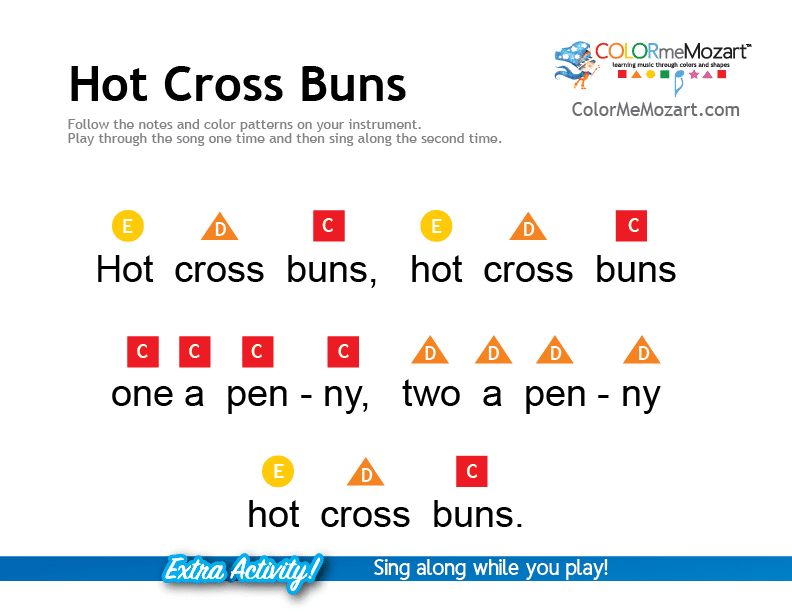 Want Your Child to Learn Piano and Music?
For more information into the Color Me Mozart™ music curriculum, click here to find out more. Your child can learn music, piano and xylophone with real music education that they can apply to any instrument in the future. Give the gift of music to your child or students.
Here at Color Me Mozart™, we believe every kid has the ability to learn to music. Most importantly, we feel that every child should have the opportunity to learn music, piano or any other instrument. Music is such a rich language that helps with cognitive, emotional and social development.
That is why we created a curriculum that was not only effective in teaching music and piano, but also affordable to add to any home or classroom.
Want to learn Baby Shark on the piano, click here!