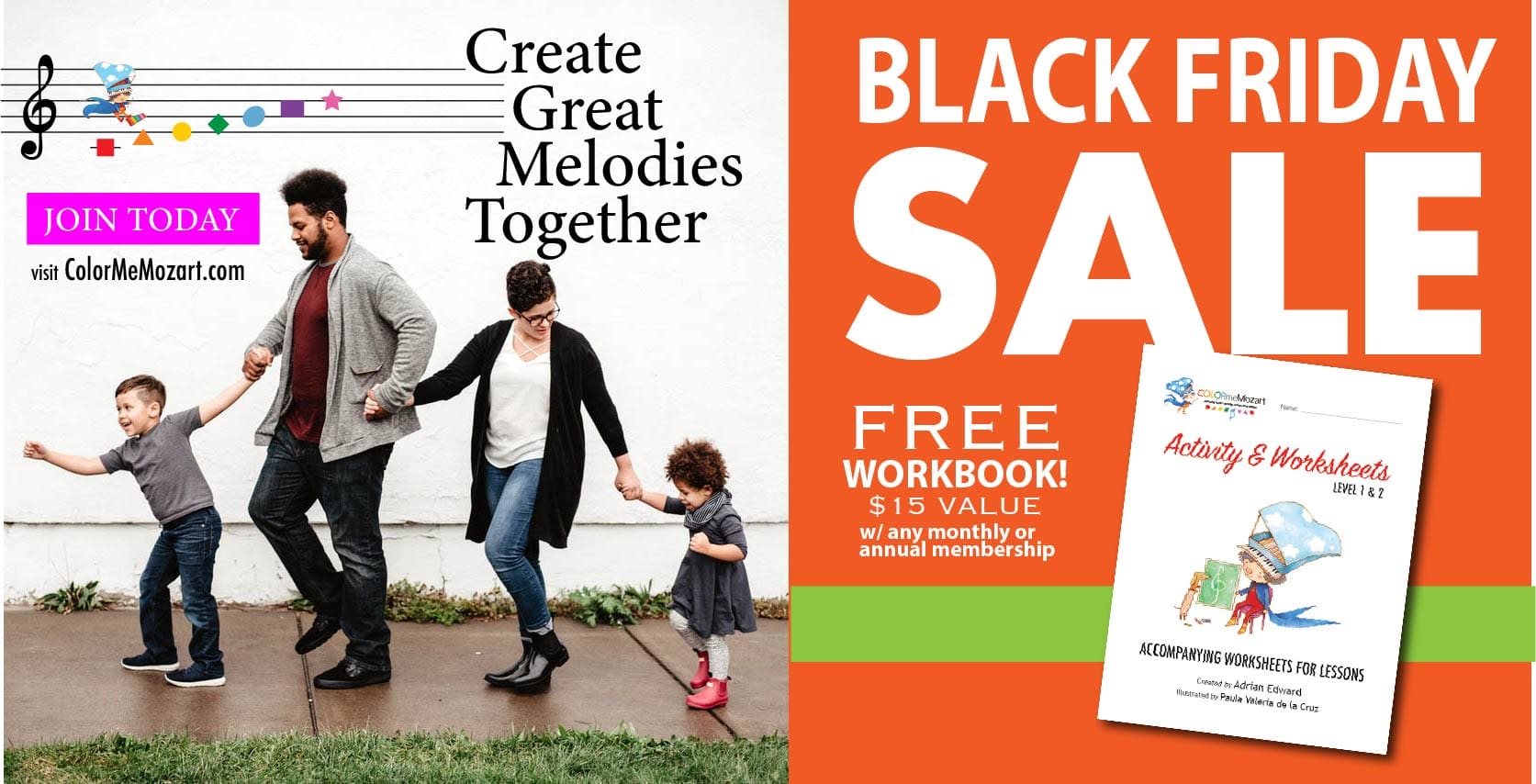 Black Friday Music Sale
We love this time of the year. I think it's safe to say that most of us enjoy the holiday season. With the holiday season comes an awful lot of gift buying, expenses and all around craziness. At Color Me Mozart™ we wanted to offer you a breather from all the commotion and bring a little bit of eduction into the mix. Learning music should be in everyone's reach. That is why we've chosen to offer a special Black Friday music sale this year. With any monthly or annual membership, you get a free music colorful workbook with free shipping.
Our favorite thing is to share the love of learning music with as many families and teachers as possible. Learning to play the piano, read music or just generally have music time during the day is not always feasible. We have spent the last years fixing that problem. By making music an integral part of your educational day, it's easy to add it to any schedule.
Live Lessons Every Day
In order to be successful at learning how to read, write and play music, you need to engage frequently. It doesn't matter whether it's the piano, violin or drums, frequency is the key. Staying engaged with children is critical if they are to learn music seamlessly with other subjects in school.
That is why we offer all of our members live lessons each and every day. You can ask Adrian any musical questions you have live. Singalongs, rhythm exercises, music and movement, reading and writing music are just a few of the fun activities you will be doing every day.
No Need to Know Music
The most common question we receive is, "What if I don't know music?" Whether you're a teacher sharing music with your students or a parent sharing music with your kids, a prior knowledge of music is not needed. Just like any other language you grew up learning, music can be assimilated and absorbed by immersion. The best news is that you will also learn alongside your students or children. It's a wonderful experience and you too, will become a musician! 🎹🙌
Conclusion
We are excited to have you join our Color Me Mozart™ family. We guarantee you will have a blast and add a valuable gift to the lives of your children and students. See you inside for your first lesson.
Black Friday Sale
Get a FREE Music Workbook with Free shipping with the purchase of any monthly or annual membership.