First and foremost, we had the best night ever and met such amazing people from all over the world. The event was planned as a small fundraiser for the Color Me Mozart Foundation. It turned out to be so much more.
If you've never been to Dyker Heights doing the holiday season, may I suggest you do yourself a favor and plan a trip there next year. However, you may be asking, what if I live in Australia? It doesn't matter! Book a flight and come join us. You won't regret it. What does all this have to do with having a fundraiser you may ask? Great question!
The Color Me Mozart Foundation provides musical instruments and music educational materials to special needs program and schools that don't have it in their budgets for access to music programs. We feel strongly that music is a powerful tool of expression for many special needs children and families.
A Dream Come True
It has been our dream for many years to donate instruments and music education materials to schools that needed it. This week's fundraiser went amazingly and we want to thank our friends James and Frank for opening up their beautiful home in Dyker Heights for the event. James is actually the owner of the best Christmas Lights decoration company here in Brooklyn, NY, B&R Christmas Decorators, so check him out if you want your house to be on the tou next year!
Amazing People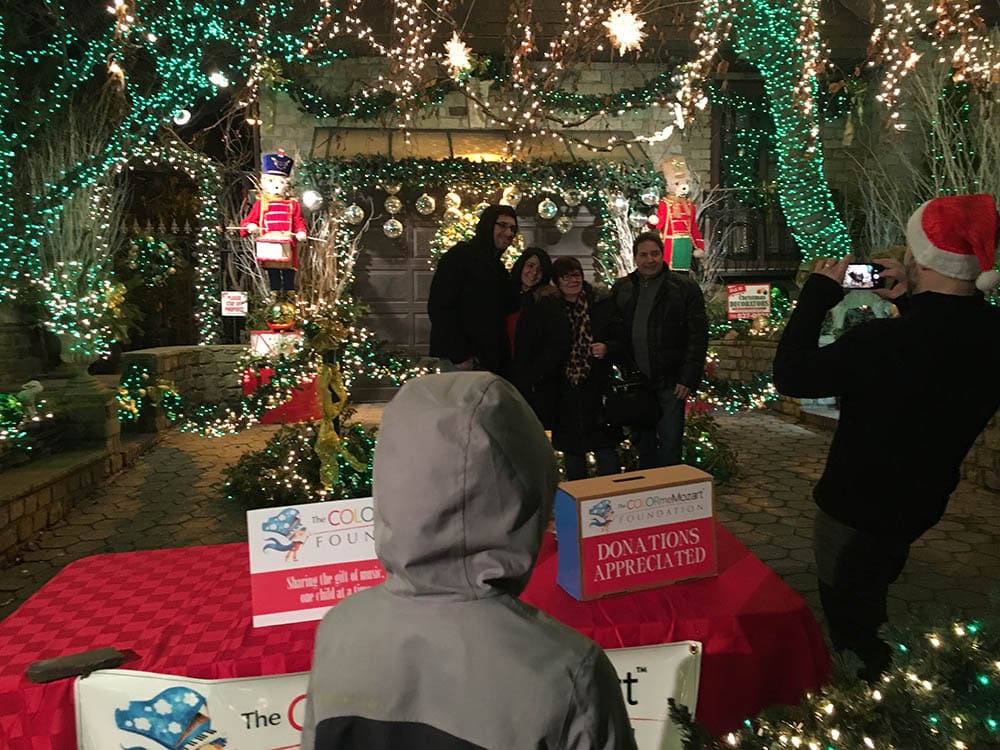 It blew us away how many people came out, from all around the world to see the Christmas lights in Dyker Heights. For instance, we met people from England, Australia, Argentina, Italy, Mexico, and of course from all over the US. Everyone was in such a grateful and joyous mood with kids oohing and aahing at the lights, which were in fact incredible to look at.
With all the busyness of the holiday, it was so much fun to be a part of all of us sowing down a bit and taking it all in. Kids were eating popcorn, drinking hot chocolate and even we added to the confectionary victuals by giving out Hershey's Kisses. Who can say not to some chocolate on a chilly Winter evening?
Thank You For Sharing the Love of Music
To sum up, it was not only a great night for us, but with your help, we are now able to provide a complete music program for many special needs programs and schools. If you know of any special needs programs or school that cannot afford music materials, reach out to us and let us know so we can help.
Together we can share the gift of music, one child at at time.
With much gratitude and appreciation,
~Adrian Edward