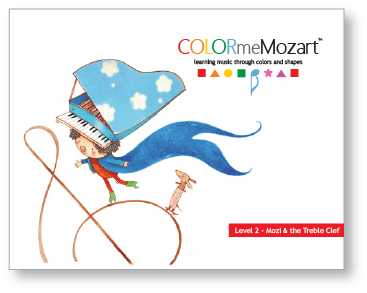 NEW!


Color Me Mozart™ Level 2: Mozi & the Treble Clef
The next level after finishing book 1
More advanced musical concepts
Two sets of Free Stickers included for your piano or keyboard!
Easy to teach with no music experience needed!
$19.95
If you've completed the Color Me Mozart™ Book 1: Mozi's Colors and Shapes, then you are ready for Book 2: Mozi and the Musical Lines. In this book, your child will learn how to read notes on the musical staff or as Mozi calls them, musical lines.
Learn about the Treble Clef, Double Bar lines and new songs to sing along with.
If you've been searching for an easy way to introduce music to your child or student and don't know where to begin, Color Me Mozart will make it easy for you. No prior music knowledge is needed and we make learning music easy and fun!