Twinkle Twinkle Little Star Piano Notes
Click here for Twinkle Twinkle Little Star Piano Notes PDF
Twinkle Twinkle Little Star is a staple of classic nursery school songs. We probably all have wonderful memories singing this song. Play it on the piano or xylophone now with your kids with these easy to follow piano notes.
What is the History of Twinkle Twinkle?
According to Wikipedia, "Twinkle, Twinkle, Little Star" is a popular English lullaby. The lyrics are from an early-19th-century English poem by Jane Taylor, "The Star". The poem, which is in couplet form, was first published in 1806 in Rhymes for the Nursery, a collection of poems by Taylor and her sister Ann.
Click here for Twinkle Twinkle Little Star Piano Notes PDF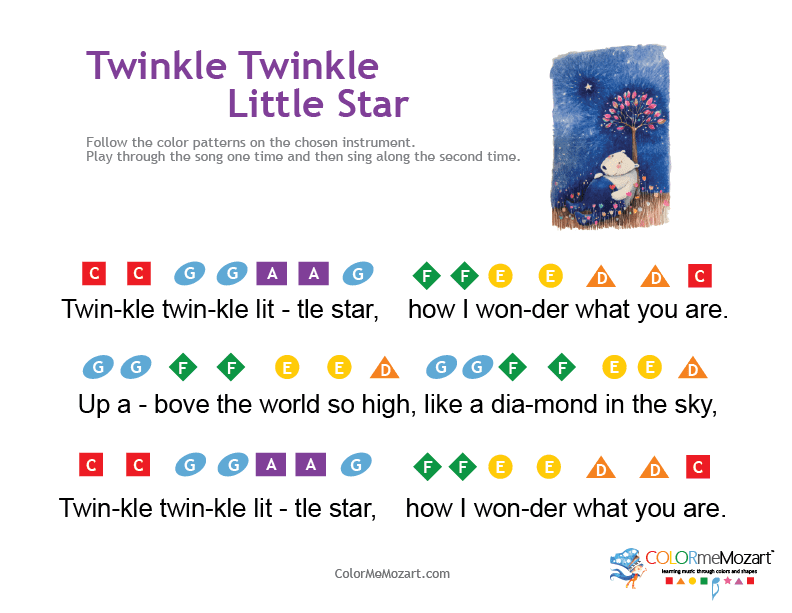 Want Your Child to Learn Piano and Music?
For more information into the Color Me Mozart™ music curriculum, click here to find out more. Your child can learn music, piano and xylophone with real music education that they can apply to any instrument in the future. Give the gift of music to your child or students.
Here at Color Me Mozart™, we believe every kid has the ability to learn to music. Most importantly, we feel that every child should have the opportunity to learn music, piano or any other instrument. Music is such a rich language that helps with cognitive, emotional and social development.
That is why we created a curriculum that was not only effective in teaching music and piano, but also affordable to add to any home or classroom.
Want to learn Baby Shark on the piano, click here!