Ode to Joy Easy Piano Notes
Click here for Ode to Joy Easy Piano Notes PDF
Ode to Joy is one of those melodies that we all know, and have come to love. We may not even necessarily know that Beethoven was the composer. We may not even know where we've heard it, but the melody is beautiful and familiar. Play it on the piano or xylophone now with your kids with these easy to follow piano notes.
What is the History of Ode to Joy?
According to Wikipedia, "Ode to Joy", is an ode written in the summer of 1785 by German poet, playwright, and historian Friedrich Schiller and published the following year in Thalia. "Ode to Joy" is best known for its use by Ludwig van Beethoven in the final (fourth) movement of his Ninth Symphony, completed in 1824.
Click here for Ode to Joy Easy Piano Notes PDF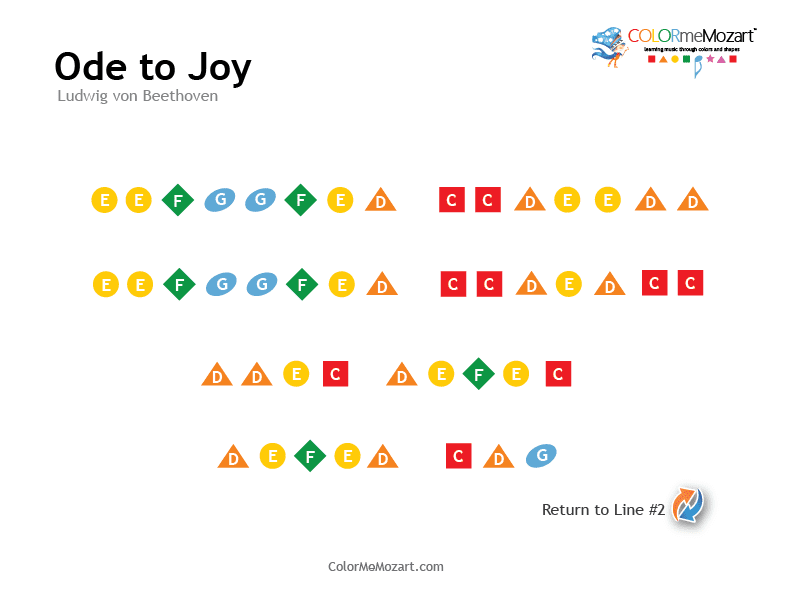 Want Your Child to Learn Piano and Music?
For more information into the Color Me Mozart™ music curriculum, click here to find out more. Your child can learn music, piano and xylophone with real music education that they can apply to any instrument in the future. Give the gift of music to your child or students.
Here at Color Me Mozart™, we believe every kid has the ability to learn to music. Most importantly, we feel that every child should have the opportunity to learn music, piano or any other instrument. Music is such a rich language that helps with cognitive, emotional and social development.
That is why we created a curriculum that was not only effective in teaching music and piano, but also affordable to add to any home or classroom.
Want to learn Baby Shark on the piano, click here!